Data Acquisition (DAQ) Systems
Central to data collection, storage, and distribution, data acquisition (DAQ) server and gateway provides remote access to real-time system performance and metered energy data.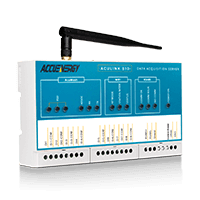 DAQ
Aculink 810
Data acquisition server & gateway connects up to 64 Modbus-RTU devices via RS485 & USB port, plus 100 Modbus TCP/IP devices. Supports BACnet-MS/TP, & BACnet-IP, Mbus, MQTT, RSTP, SNMP, HTTP/HTTPS; includes dual Ethernet, WiFi, & 8GB onboard memory & webserver access.
Contact Our
Product Expert